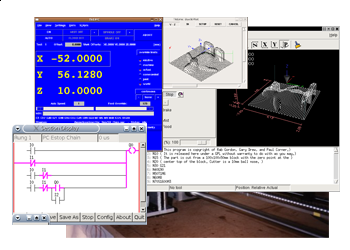 LinuxCNC controls CNC machines. It can drive milling machines, lathes, 3d printers, laser cutters, plasma cutters, robot arms, hexapods, and more.
Runs under Linux (optionally with realtime extensions).

Simple installation on Debian and Ubuntu, or via our Live/Install DVD/USB images.

Accepts G-code input, drives CNC machines in response.

Active user community.

Several different GUIs available.

Compatible with many popular machine control hardware interfaces.

Supports rigid tapping, cutter compensation, and many other advanced control features.

Full source code available under the terms of the GNU GPLv2 (General Public License version 2).
Showcases
May 18, 2018
Using a combination of LinuxCNC and the Open-Source STMBL servo drive (in combination with Mesa cards which have open-source firmware) Alex Shure has retrofited a 3300mm x 1200mm x 120mm machining centre.
subscribe to Showcases via RSS