There are no translations available.
One of the bits missing from the Enhanced Machine Controller for a long time, was the ability to control lathes.
This has changed recently. EMC2 can now succesfully control lathes as you can see from the next few chapters.
However, although it already works, support for lathe is constantly beeing improved as new features are planned and get added (lathe canned cycles, constant surface speed to name but a few).

Using AXIS to control a CNC Lathe
By including the line
[DISPLAY]
LATHE = 1
in the ini file, AXIS selects lathe mode. The ``Y'' axis is not shown in coordinate readouts, the view is changed to show the Z axis extending to the right and the X axis extending towards the bottom of the screen, and several controls (such as those for preset views) are removed.
Pressing ``V'' zooms out to show the entire file, if one is loaded.
When in lathe mode, the shape of the loaded tool (if any) is shown.
A real-life example
The code
The code used is a standard g-code generated by a commercial CAM package. The file can be downloaded from
the CVS repository
.
The result
The AXIS GUI with the program loaded
The finished part
The machine used to machine the testpiece (an EMCO machine retrofitted with emc2)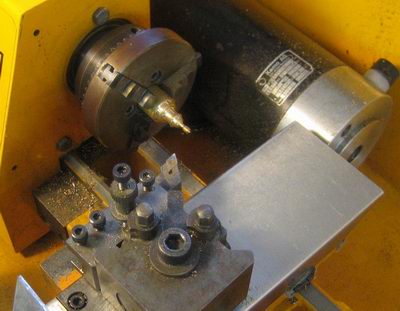 Detail after the cut.
A small movie

download the movie
Machine, part, program and various others by Lernaen_Hydra .